Top Family Summer Activities near Orange, CA
Orange County offers the perfect blend of outdoor fun and culture, and its vast selection of attractions and activities are for all ages, so everyone in the family can have a good time. From historic landmarks to the beaches and the zoo, take a look at some of the top family summer activities near Orange, California.
Visit the Los Angeles Zoo and Botanical Gardens
The Los Angeles Zoo is an excellent spot for the whole family to spend time outside. The zoo is home to over 270 different animal species and features exhibits that showcase biomes from around the world. During your visit, you can see:
Elephants of Asia. The elephants have room to roam this habitat with waterfalls, bathing pools, and a high-tech barn.
Rainforest of the Americas. The 2.2-acre habitat is home to monkeys, jaguars, and giant otters.
The Lair. Over 60 amphibians, reptiles and invertebrates live in the Lair.
The LA Zoo offers a variety of programming for the whole family and is home to the Tom Mankiewicz Conservation Carousel with 64 uniquely carved wooden figures. Also, while you are there, make sure to visit the Botanical Gardens to see plants from all around the world. You'll find everything from Mexican fan plants to Hong Kong orchid trees, and much more.
Take in a Baseball Game at Angel Stadium of Anaheim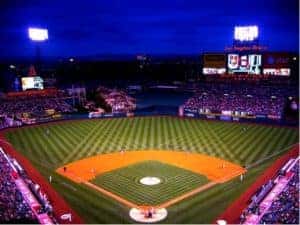 "Angel Stadium, Anaheim CA." By bfick licensed under CC BY 2.0
Angel Stadium of Anaheim is home to the Los Angeles Angels Major League Baseball team. A trip to this family-friendly ballpark is the perfect spot for a family outing. You can make it even more special by taking a Ballpark Tour and experiencing a behind-the-scenes look at places in the stadium that are not open to the public. A tour might include a trip down to the field, a stop at the dugout, and a walk through the Visitor's Clubhouse.
Experience the Ocean Institute
The Ocean Institute offers a wide variety of activities for families to learn about the ocean and the species that live in it. Some of the things you might do during a visit to the institute include:
Book a Whale and Marine Life Tour on the 65-foot research ship Sea Explorer. This vessel is a floating lab with everything from underwater cameras to computers and video microscopes. A two-hour tour brings you along for the ride with the crew as they look for whales, dolphins, and other species that live in the Pacific Ocean.
Take a tide pool hike into the Marine Conservation area with an expert naturalist from the institution. Search for snails, sea stars, crabs, and more in the tide pools.
Sign up for a guided kayak tour around the waters near the institute.
Take the Maritime Experience: A Sailor's Life Tour and go back in time to 1834 to learn about the history of Dana Point. You'll experience life as a sailor by hoisting barrels and then take a tour of the tall ship, Spirit of Dana Point.
Ride the Rails at Irvine Park Railroad
Irvine Park sits in a grove of oak and sycamore trees and is a beautiful spot with a waterfall, footbridge, and the OC Zoo. One of the best activities at Irving Park is the Irvine Park Railroad. The 1/3 scale train has room for kids and adults who want to take a ride through the park. It's just $6 a ride for kids ages 1 and up and their adults. Children who are younger than 1 ride for free.
While at the park, you can also go for a paddle boat ride or rent a bike and pedal your own way around the park. This regional park also has walking and trotting ponies for the kids. You'll find them right next to the train station, making it easy to do both activities on the same day.
Explore Discovery Cube Orange County
Discovery Cube OC is not only the perfect place for kids who like to explore STEM subjects, but it's also a great place for everyone in the family. While visiting, the kids can get hands-on experience in the following:
Physics Lab
Science of Hockey
Organics Waste Lab
Mission Control
Hurricane
Planetary Research Station
Cloud Rings
Discovery Market
There are so many fun activities at Discovery Cube that the kids won't even realize they are learning science while they play. In addition to the science exhibits, there is also a Boeing Rocket lab and the Discovery theater.
Experience Thrills at Knott's Berry Farm
Knott's Berry Farm has been a staple in Orange County for over 100 years. It's the original theme park and still offers experiences and thrills for the whole family. You'll find rides for the little ones, such as the Balloon Race and the Beach House, and adrenaline-pumping rides for the adults and older kids. The Calico River Rapids have you riding at top speed down a river rapid, or you can try the Coaster Rider or GhostRider if you like roller coasters.
Knott's Berry Farm is not only known for its rides, but it also has other fun experiences, such as the California Mission Models and the Western Trails Museum. This unique museum features collections from the old west, including fashion, antiques, and an American Flag that is over 100 years old.
Some other unique experiences at Knott's Berry Farm include the Bear-Y Tales: Return to the Fair 4-D interactive ride. It takes guests on a thrilling journey without having to leave their seats.
Before leaving this Orange County attraction, make sure to stop at Mrs. Knott's Chicken Dinner Restaurant. This family-style restaurant has been serving classic fried chicken and handmade biscuits since 1934. Make sure to save room for some boysenberry pie.
These are some of the Orange County activities where we love to take our families in the summer. Do you have any others that we missed? Stop by Mazda of Orange and tell us about them so we can bring our kids to check them out. You can also shop for a new ride to get you around Orange County while you're here. We have a great selection of new and used Mazda vehicles ready to hit the road.