New Mazda Cars & SUVs in Orange, CA
At Mazda of Orange, we take pride in being the best luxury car dealership in Orange, CA. Through our website and friendly team members, you can find every available discount on a Mazda or other premium vehicle, plus special offers that rotate frequently and help you save more. Here's the full story about why you should get a new car with Mazda of Orange.
Why Buy A Mazda?
The simplest reason to buy a Mazda is that they have the highest reliability ratings of any automaker. Once you know who makes the best cars, what's the point of driving anything else?
Some other reasons people make the switch to Mazda include:
Exciting developments for electric vehicles, like the MX-30 EV.
Comfortable features like adaptive cruise control and automatic climate control, standard.
Stylish and assertive body sculpting with aerodynamic touches.
Powerful engines and high outputs, like the 2022 CS-9's 227 horsepower and 3,500-pound tow rating.
A New Vehicle Limited Warranty of 36 months or 36,000 miles.
When you want to buy a new car with both luxury features and a great value for your money, there can only be one automaker with the best offers, and that's Mazda. Every day, our Mazda dealership is delighted to offer generous discounts and quick service.
Why Buy From Mazda of Orange
Who you buy your Mazda from matters just as much as which one you get. You won't find the Mazda of your choice at a better price and payment plan than at Mazda of Orange. Thanks to our connections with the automaker, we can get Mazdas for less and pass those savings to you.
What's more, our convenient website has options that other dealers often don't, like being able to filter by specific features in one click, check availability, or examine payment options for every car or SUV. You can even buy a car from us entirely online, with home delivery up to 100 miles from our dealership.
New Mazda Vehicle Features and Specs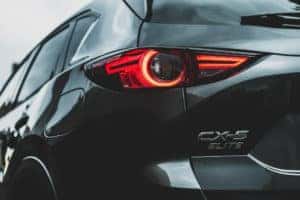 Now has never been a better time to get a Mazda SUV, sedan, or sports car. Take a look at the kinds of vehicles in the modern lineup and what makes them special.
New Mazda CX-5 Features
The CX-5 perfectly blends the practical size and features of a family SUV with subtle, timeless body styling and a sophisticated cabin. When pulling away from stoplights or rushing around town, the CX-5's powerful 187-horsepower four-cylinder engine offers excellent throttle response, making it feel faster and more enjoyable than SUVs with a higher rating.
The standard engine also sips fuel at a competitive 24 mpg in the city and 30 mpg on the interstate. The turbocharged version of the same engine takes the horsepower to 227 and is still rated at 22 mpg in the city and 27 mpg on the highway.
"Black CX-5 Elite vehicle photo." By Denny Ryanto licensed under Unsplash
New Mazda CX-30 Features
For 2022, Mazda made all-wheel drive standard across all CX-30 compact SUVs and introduced a new Carbon Edition. The standard engine offers 186 horsepower, along with a six-speed automated transmission that intelligently selects ratios based on driving conditions. A 250-horsepower turbocharged 2.5-liter engine is available as an option, upping the horsepower to 250. Non-turbo vehicles get 24 city mpg and 31 highway mpg, while turbocharged ones get 22 city mpg and 30 highway mpg. Wherever you and your crew are headed, either engine has the power and efficiency to handle a few detours.
New Mazda CX-50 Features
Newly released in the middle of 2022, the latest CX-50 is tagged as the "Instigator of Curiosity." At 24 city mpg, 27 highway mpg, and 187 horsepower, there will be plenty of reasons to go for a drive even with the standard engine. Go for the turbo version and you'll get 227 horsepower on 87 octane fuel or 256 horsepower on 98 octane fuel.
What's more, the included Mazda Intelligent Drive safety package keeps everyone safe with the latest in driver assistance. The Advanced Smart City Brake Support, for example, is a forward-collision and pedestrian detection system that can automatically stop the vehicle at 50 miles per hour or slower, even at night.
New Mazda CX-9 Features
The CX-9 expands Mazda's finer touches and value for money into a three-row crossover. For 2022, Mazda made standard editions all-wheel-drive across the board. A new Touring Plus model adds a power-adjusting driver seat, ventilated front seats, black-painted 20-inch wheels and grille trim, aluminum roof rails, and a frameless rearview mirror.
Mazda3 Sedan and Hatchback Features
The Mazda3 is a compact automobile with a luxurious interior, dynamic performance, and an attractive design. There are two engines: a 2.0-liter engine with 187 horsepower and a turbocharged 2.5-liter turbo engine with 227 horsepower and class-leading performance. The Mazda 3 is also available with all-wheel drive, which is a boon for buyers who face cold and wet roads. Mazda also offers hatchback models, which offer a unique combination of optional all-wheel drive and 20.1 cubic feet of cargo space.
Mazda MX-5 Miata Features
The 2022 Mazda MX-5 Miata is the most affordable high-end convertible sports car, delivering an unparalleled open-air experience. All MX-5 Miata variants are rear-wheel drive and feature the Skyactiv-G 2.0-liter engine, which produces 181 horsepower. MX-5 Miata Sport and Club versions carry a more tactile six-speed manual gearbox, and the Miata Grand Touring can come with either and have available paddle shifters. Don't forget the Miata RF if you're looking for a hard-topped sports car with all the same benefits.
Are you ready to test-drive your next Mazda? Don't look for subpar deals at some all-brand dealership. Take a look at any models that interest you on this page before they sell out. Our website and friendly team will take all the headaches out of buying a new Mazda in California.